What can we say about the South Boundary Trail that others haven't already? It is northern New Mexico's premier singletrack and offers long miles of aspen stands, mountain views, and culminates with an incredibly fun descent back to the desert valley below.
We'll outline a few options, so here's the quick n dirty:
Shuttle:
Garcia Park down
FR 76 to Osha Pass and down
Shuttling to Garcia Park via FR 437 or FR 76 requires high clearance and a good bike rack. Our friends at Shuttle Taos provide a great shuttle service.
Self-served:
FR 437 to Garcia Park – 32 miles, 3,600′ climbing
FR 437 to Osha Pass (the full chimichanga!) – 47 miles, 7,800′ climbing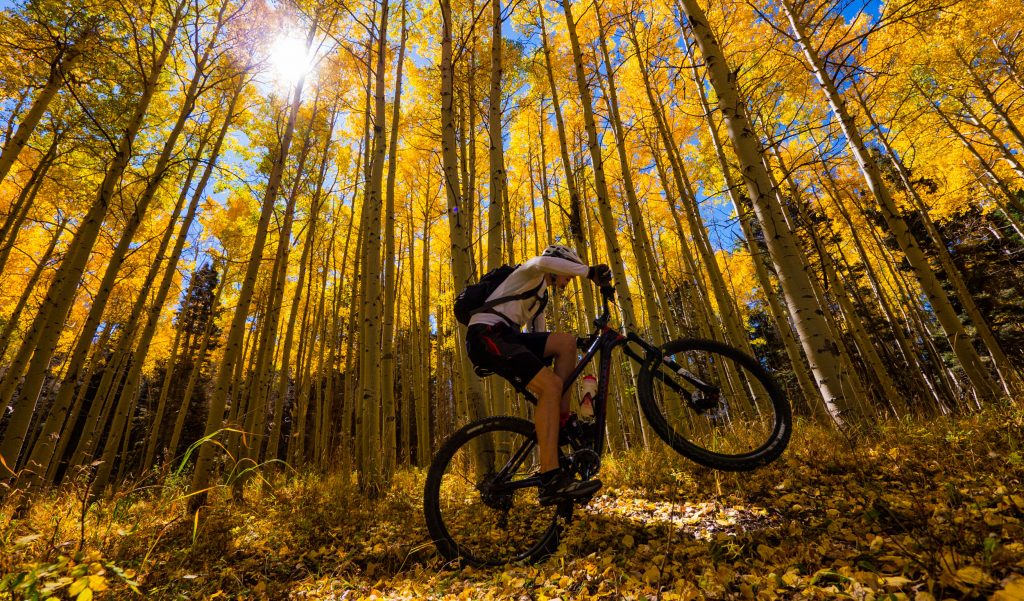 The Ride
Cross Country/Trail
Moderate to Expert (fitness is the biggest factor)
Best in Summer and Fall. Catch it right in September and it's a hallway of gold
Access from El Nogal Trailhead
Total climb: See Above
Total distance: See Above
Time needed: Half-day, full-day or campout
This is going to be a different description given the many options to ride this trail. There are four different routes recommended that are listed here. The common factor is beginning or ending at the El Nogal trailhead. We'll start with the easiest and work our way to the most challenging.
Recommended Shuttle Routes
Easiest: Shuttle to Garcia Park, ride to El Nogal
Whether you use a commercial service or your buddy with a pickup, this is the quickest route to get a good taste of the South Boundary Trail. Typically, one will leave a vehicle at or near El Nogal and drive highway 64 to the Valle Escondido turn off, where it turns to dirt and climbs up to Garcia Park via Forest Road 437.

This roue starts with a climb out of Garcia Park before working its way through a series of twists and turns, climbs and small descents, before starting the long miles of aspen stands and eventually the chunky descent back to the trailhead.
Longer Version: Shuttle to FR76 and Ride From Osha Pass
Similar to the route above, Turqouise Tours or a friend with a pickup can deliver you to the Angel Fire side of the mountains and you will start along FR 76, which does require high clearance. There's a segment of singletrack that climbs to an old doubletrack that eventually leads to the top of Osha Pass, summitting near 10,200′.
This route would be considered the 'full South Boundary' experience, wherein it includes a descent called 'Heaven on Earth', which as you can imagine is quite amazing! If you can catch this ride during peak color changes in the fall, you're in for a real treat.
Self-Served Routes
Easiest: El Nogal to FR 437 to Garcia Park Loop
While easy may be a relative term, this is a great option for those seeking a big day on the bike with least suffering. Starting at El Nogal or along the highway, you can either use the Talpa Traverse trail or follow our route through the neighborhood to the start of FR 437. The climb on FR 437 is pretty mild, rarely needing your Eagle cassette until the final ascent to Garcia Park. Along the way there is plenty of water, beaver ponds, and campsites.
Once you have made it to Garcia Park, you connect to the South Boundary Trail and continue along singletrack all the way back to El Nogal. Total time for this ride will take between 5-8hrs depending on fitness, sightseeing, and weather.
The Full Chimichanga: El Nogal to FR 437 to Osha Pass and Back
Oh boy. This is a proper full-day epic. Following the same route as above, but instead of turning off to Garcia Park, you continue following older doubletrack until you reach Osha Pass. Given the time and fitness necessary, we do not recommend this for most riders. This route also is challenging in summer months due to heat and threat of monsoons.
The benefit? You will have done 47 miles and 7,800′ of climbing while experiencing some of the best singletrack the Southwest has to offer!
Need to Know
This is mostly high-elevation. Drinks lots of water and carry a rain jacket.
Please use a GPS and map. There are some basic turns that if missed can be detrimental.
While popular and arguably NM's best epic, you'll likely see very few people.
Great camping at Garcia Park.