The Dragon Slayer Loop is a scenic and fun cross country loop ideal for a winter escape. Located on BLM land near the San Ysidro Pueblo and offers otherworldly riding experience with grand views out towards the Rio Grande Valley and the Jemez Mountains.
The Ride
Cross Country/Trail
Easy to moderate difficulty
Best in Fall/Winter/Spring (hot in summer)
Access from White Ridge Trailhead
Total climb: 800′, Total descent: 800′
Total distance: 8 miles
Time needed: 1-2 hours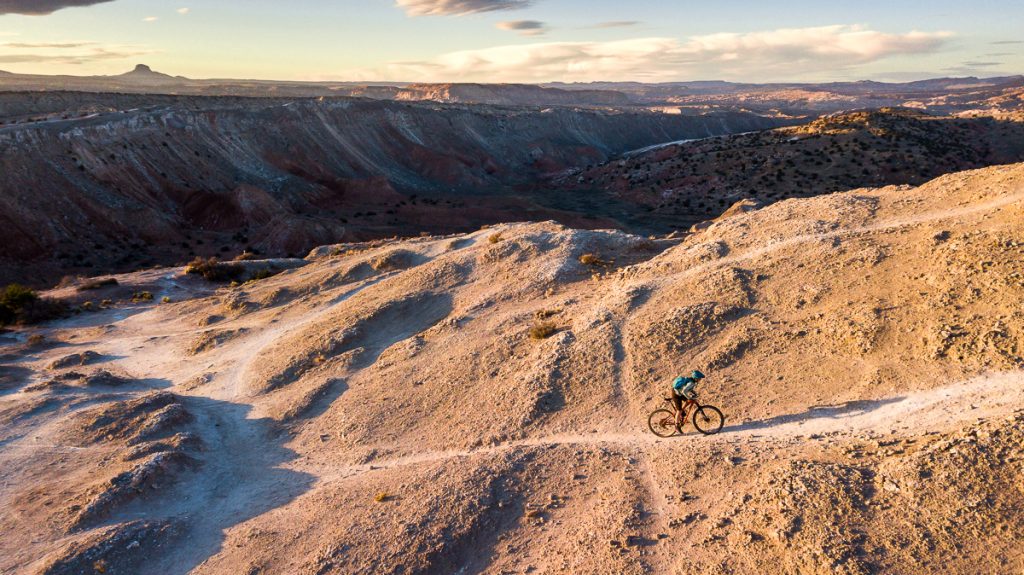 Starting at the parking lot, this clockwise loop follows the famous Dragons Back and skips the hike-a-bike, utilizing the lower double-track to connect to the central singletrack.
The climb starts along 'The Springs'–a series of standing springs seeping from the rock–and continues past a series of stinking, sulfurous sinkholes.
After a short jaunt on the doubletrack, the trail meanders through a series of optional bumps, drops and woops in a moonlike landscape. The remainder of the route continues a series of short punchy climbs and rocky descents up and down a series of times before a ripping fast descent back to the parking lot.
Need to Know
Great in the winter months. The only exception is right after a big snow.
It can be quite windy, so be prepared.
Nearby there is a shooting area, so don't be shocked to hear gunshots.
Accessible with most passenger vehicles, gravel road with some ruts.